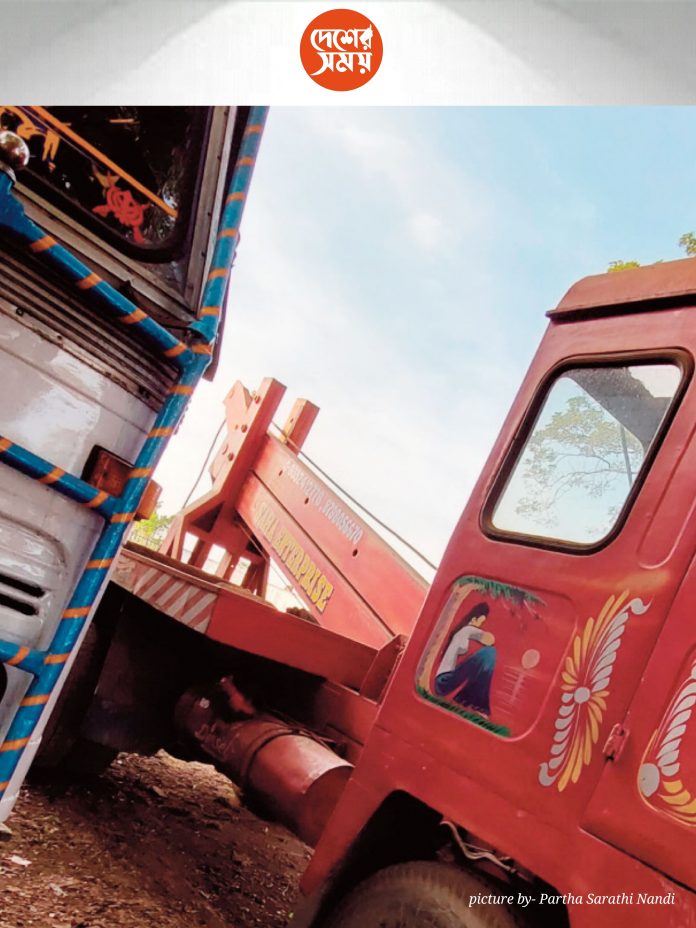 Somnath Dasgupta, Bongaon: 27.11.2022- Nearly 4,000 goods vehicles in Bongaon on India's border with Bangladesh are headed for the scrap yard after a slot-booking portal launched in September slashed month-long queues for export shipments heading into Bangladesh.
Earlier, trucks from all over India with export shipments entering Bangladesh through the Petrapole ICP on the West Bengal border had two options: wait for weeks at the congested border gateway to cross over into Benapole in Bangladesh and unload their goods, or unload at godowns in Bongaon from where local trucks were used for the last leg into Bangladesh.
Now, all exporters are using the portal Suvidha to book slots for their trucks headed into Bangladesh through the land border points in West Bengal. Petrapole, 80km from Kolkata, is south Asia's largest land port. In 2021-22, Petrapole handled nearly 1,50,000 vehicles.
The portal has eliminated waiting times but killed the business of the local transporters, who own large trucks, including 10-wheelers, and hurting the economy.
The government is making money: Suvidha charges a registration fee of Rs 10,000 for trucks carrying goods into Bangladesh. This is charged every time it crosses over. The justification? The portal saves exporters money by cutting queues.
The portal charges Rs 5,000 for each vehicle chassis being driven into Bangladesh (where it will get a body and become a new truck or bus).
"The portal will destroy the local economy," said Kartick Chakraborty, secretary of the Petrapole Clearing Agents Staff Welfare Association. "Everywhere in the world, people are talking of looking after the local economy. Here, we are destroying it".
Debabrata Sen, a prominent transporter, said 1,200 vehicles had already been scrapped, as their owners were unable to bear the cost of maintaining them or deploying them elsewhere. He said 5,000-odd vehicles were used exclusively by exporters.
Bongaon has no heavy industry that requires such trucks.
"Many of these trucks had been bought seven or eight years ago, so they had enough life left in them," he said when asked if they were old enough to get the axe under pollution control laws.
"Trucks bought in 2015 for Rs 15 lakh are fetching less than Rs 4 lakh," Sen said. Prodded by courts, the government is tightening the implementation of a 2015 decision that calls for the scrapping of all
goods vehicles over 15 years old.
"Trucks that we bought for Rs 7 lakh in 2015 are fetching us Rs 60,000-70,000 from scrap dealers,"
Sen said.
"Financiers are seizing the vehicles on which instalments are due, while we are selling the ones we bought without loans," Sen said.
The scrapped vehicles are going to Phoolbagan near Dunlop in Kolkata, Panagarh in Burdwan, and Mogra near Kalyani, three big centres in West Bengal for scrapped vehicles.
Suvidha was created by the West Bengal government in coordination with the Land Ports Authority of India, which runs Petrapole and the other border trade posts, the Central Board of Indirect Taxes
& Customs (CBIC), and the Border Security Force.
Exporters save up to Rs 70,000 they had to pay a local truck for carrying the goods just seven km into Benapole in Bangladesh, on the other side of Petrapole, so that their trucks are free. The local truck owner justified the cost as their waiting time of up to a month just to get into Bangladesh.
The local truckers have formed a committee to lobby the government for a bailout. An exporter said the government has to figure out a solution or the thousands of youths involved earlier in the transshipment business could get involved in border crimes.
Bongaon thrived on the Petrapole business. Everyone, from the municipality, which ensured that trucks waited at its fee-parking lots, to the local truckers and their vehicle crews to the scores of godowns and the people involved in loading and unloading goods had an income.
Most of that is gone now.
Chakraborty refuses to give Suvidha all the credit for the one-day crossover. He said Bangladesh is
going slow on imports because it is facing a foreign exchange crisis and its importers are unable to get letters of credit. This has made traffic into Bangladesh dwindle before Suvidha happened.