By Santanu Bhattacharjee
Ram existing or not was a matter of debate for researchers. But from a religious slogan of Jai Shri Ram it has became a strong political slogan at least in West Bengal.Now we will try to under how and why this slogan is becoming a part of day to day politics in West Bengal where BJP is fast coming up as an alternative of ruling Trinamul Congress.
The Trinamool Congress (TMC) supremo was on her way to Naihati to participate in a sit-in against violence on her party workers after the Lok Sabha poll results when the incident took place on 30 May .
In a video, which has gone viral on the social media, some men are seen shouting "Jai Shri Ram" as Mamta Banerjee's motorcade was passing through the Bhatpara area, a scene of violence between the BJP and the TMC since the declaration of the poll results.
Losing her cool yet again over chanting of "Jai Shri Ram" slogans, an infuriated Banerjee came out of her car and asked her security officials to note down the name of the men.
"What do you think of yourself? You will come from other states, stay here and abuse us? I will not tolerate this. How dare you all abuse me? All of your names and details will be noted down," Mamata was heard saying.
After the chief minister got into her car, the men chanted "Jai Shri Ram" again, prompting her to disembark from the vehicle once more.
Later, addressing the protest programme at Naihati, Banerjee said some BJP workers came in front of her car and abused her verbally. "Is this democracy?," she asked.
Earlier this month, a video had surfaced during the Lok Sabha poll campaign, showing Banerjee losing her temper as some men chanted "Jai Shri Ram" when her motorcade was passing through Chandrakona in West Midnapore district.
In that video, which too had gone viral on the social media, Banerjee was seen angrily coming out of her car and saying that the men were mouthing abuses.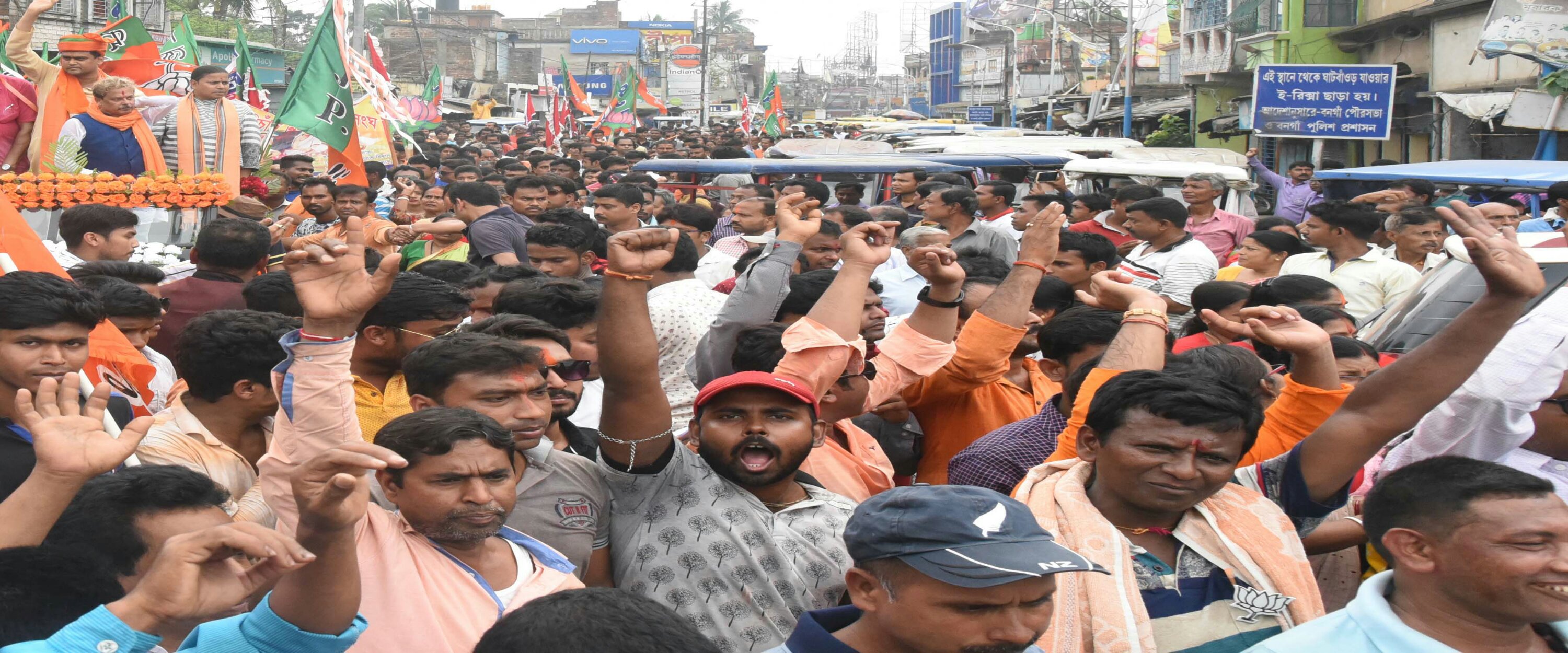 Religion and politics
In a true representative democracy, the state or its leader should never prioritize or give preference to one religion over the other. Unfortunately, most of the people in power today just pay lip service to secularism and misuse religion for electoral gains and political power.
Religion and politics have long been intertwined but not so much as since the past few decades. The memories travel back to a not-so-distant past, when the Bharatiya Janta Party adopted a humble prayer, a gentle salute to the greatness of Shri Ram and used it as a war cry and made it a slogan at every rally and campaign, to motivate its followers to destroy the Babri Masjid in Ayodhya, janam bhoomi of Shri Ram.
On 25 September 1990, L.K. Advani, then BJP president, started the Rath Yatra from the Somnath Mandir in Gujarat. Amidst chants of Jai Shri Ram was lurking aggression coupled with hatred which resulted in inter-communal violence, leaving hundreds dead and injured. By joining the cause of VHP and other Sangh Parivar affiliates to build Ram Mandir at the site where the Babri Masjid stood, BJP lent political support to an otherwise religious agenda. The amalgamation of religion and politics proved to be extremely beneficial for BJP. Moving from 2 seats in 1984 (8th Lok Sabha) to 89 seats in 1989, the 1991 General Elections saw BJP coming out of the closet with 120 seats, making it the main opposition party. After the demolition in 1992, the chant of Jai Shri Ram became BJP's victory slogan. Sword and trishul wielding members of RSS & VHP and BJP followers took processions through the streets in towns and cities, spreading a wave of terror among the minorities. Incidentally, neither the sword nor the trishul were the chosen weapons of Shri Ram.
Prior to the Ayodhya movement, Jai Shri Ram as a political mantra was rarely heard of. Vande Mataram and Bharat Mata ki Jai were the commonplace watchwords. In the 90s, when the Bharatiya Janta Party was finding its ground, the slogan became a way of uniting Hindu votes.
As BJP started rising, so did Hindutva, the non-religious political face of Hinduism. With the saffron party coming to power in 2014, religion is unabashedly being commingled with politics. After BJP's grand victory in Uttar Pradesh, PM Modi was greeted with chants of Jai Shri Ram in the Parliament; a place where secularism should be protected. When religion is used to divide and spread hatred, it becomes absolutely imperative to hold fast to the ground and nurture the roots of our existence and faith.
The slogan chanted in Lord Ram's praise and glory, has become a dreaded sound in many parts of the country, especially when emanating from trishul and sword wielding followers of RSS, VHP, Bajrang Dal and many more, the so-called Hindu organisations. If these organisations had anything to do with the teachings of Hinduism, the sound of 'Jai Shri Ram' would have made these heads bow down in gratitude. Instead, it instils fear in many.