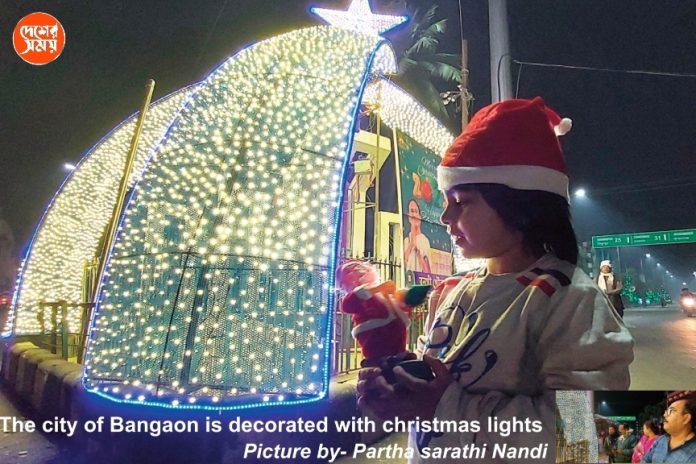 Somnath Dasgupta,25Dec: Bongaon on West Bengal's border with Bangladesh claims it has something this Christmas that even
Kolkata does not: Chandannagar's electrical wizards as opposed to Park Street's strings of Chinese LED lights.
Gopal Seth, Trinamool chairman of Bongaon Municipality, 80-odd km from Kolkata in North 24 Parganas district, said the entire area will be done up by Chandannagar's specialists.
They were once
famous for crafting animated storyboards of lights controlled by mechanical devices. Then,
inexpensive Chinese-made LEDs with preset programs flooded the market and became a cheaper option.
"Park Street has 'tuni' bulbs," Seth said, referring to the strings of tiny LEDs. "We have
Chandannagar." This time, the magic will be wrought with LEDs.
Bongaon is just a sign that the Christmas fever in West Bengal is turning out to be unprecedented in December 2022 as people turn out in record numbers after suffering the COVID-19 pandemic'srestrictions and fear for two years.
In Kolkata, be it St Paul's Cathedral or sundry churches, the Alipur zoo or the Indian Museum, picnic spots or the epicentre, Park Street, millions are out to have fun this weekend.
No, Kolkata does not have tens of millions of Christians. Its just that people in the former capital of British India, irrespective of religion, are serious about maintaining traditions. Especially if the traditions mean having a holiday that culminates in New Year celebrations, queuing up for cakes at
the iconic Nahoum's in New Market, wearing the mandatory Santa cap, hosting office parties,
gorging on biryanis, and of course, hitting Park Street in the evenings.
Chief Minister Mamata Banerjee "inaugurated" the celebrations at Allen Park off Park Street on
Wednesday.
Cut to Bongaon, which hosts the state's biggest land border crossing with Bangladesh for trade.
Christians at Bongaon have been observing Christmas for decades. But this year's celebrations are turning out to be massive, powered by lighting specialists from Chandannagar, the former French
colony, who used to do the lights for Kolkata's Durga Puja pandals.
Father Henry Saldandha, the parish priest of of St Joseph's Church at Chhayghoria in Bongaon, told Desher Samay that in 2021 the celebrations had been held under a cloud offear because of the COVID-19 pandemic. The pandemic had led to a series of lockdowns and restrictions on assembly of
crowds. This year, the people are more carefree.

L"The young and old will go house to house in the parish singing carols," said Fr. Saldanha, who is also the Dean of the North 24 Parganas Deanery and secretary of St Joseph's School, next to the church.
He said he has invited all senior government functionaries of the district. The district's VIPs will flock to the Church on Sunday morning, the 25 th of December. "We will have a small Christmas party for them," he said. "Then, from 2pm till 10pm, we will be open for everyone."
Last year, nearly a hundred thousand people had thronged the church, he said. The police and church volunteers will manage the crowds.