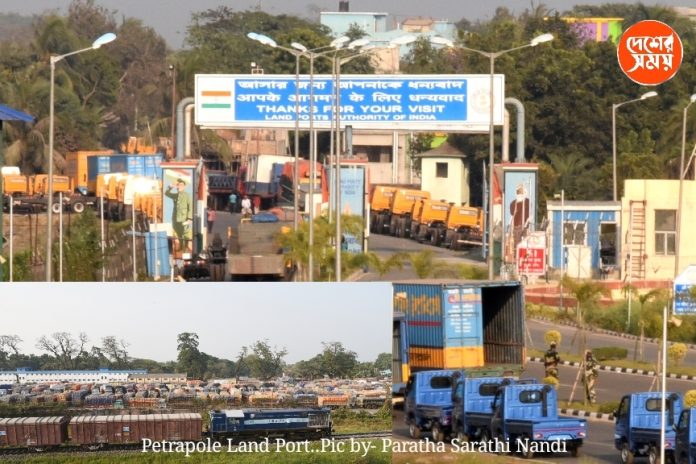 Somnath Dasgupta, Petra pole: India's exports to Bangladesh through the integrated check post at Petrapole in West
Bengal have been hit by the US dollar's rise against the Bangladeshi taka and a
crisis in foreign exchange reserves, with importers in that country finding it hard to
open letters of credit.
In just a year, the BDT has gone from around 85 to the US dollar on 10 November
2021 to nearly 105.20 on November 11 this year.
Kartick Chakraborty, an Indian exporter, said exports to Bangladesh through the
Petrapole ICP, 80km from Kolkata, are expected to halt in 10-15 days once the
letters of credit (LCs) opened earlier run out.
Bangladesh Bank, the country's central bank, is said to have informally halted the
issue of fresh LCs. On Friday, the Bank's website had one circular limiting the
holdings of authorized dealers to USD 50,000, but no word on LCs. The Bank's
spokesperson was not reachable by email.
On Wednesday, the International Monetary Fund, after months of talks, cleared a
USD 4.5 billion support package for Bangladesh, whose economy is reeling from the
US dollar's rise and the global effects of the Ukraine crisis on commodity prices. The
twin blows followed the COVID-19 pandemic's effects on countries across the world.
An official of the Land Ports Authority of India, which manages Petrapole and other
land ports, said the number of trucks entering Bangladesh from India via the land
ports in West Bengal had gone down. At Petrapole, the volume has come down from
over 9,000-odd trucks in September 2021 to around 8,000 trucks this September, he
said, requesting anonymity.

Nearly 30% of the land-based trade between India and Bangladesh takes place
through ICP Petrapole and Benapole on the other side. In 2021-22, Petrapole
handled two-way trade of Rs 29,406 crore.
India exports cotton and cotton yarn, cereals, and mineral oils to Bangladesh. It
imports mainly non-knitted apparel and clothing accessories, vegetable and animal
fats, and knitted apparel and clothing accessories.
In July this year, Bangladesh Bank told all authorized dealers that they would have to
tell its online import monitoring system about any import deal valued at USD 5 million
and above at least 24 hours before opening an LC. A fortnight later, on July 28, it
lowered the amount to USD 3 million.
According to Bangladesh Bank, gross foreign exchange reserves dwindled to USD
36.5 billion in September 2022, from USD 46.2 billion in September 2021.
In September this year, Reuters reported that the State Bank of India, India's largest
lender, had requested Indian exporters to strike deals with Bangladesh in local
currencies and not the US dollar.
The three land border posts at Petrapole-Benapole, Ghojadanga-Bhomra, and
Gede-Darshana (through which trains operate) in West Bengal handle exports from
all over India.